Greed, glowing lips and goose-induced fatalities
are three sure signs that Compton & Bennett
are home for the holidays.
Compton & Bennett in "GRANDMA'S CHRISTMAS GOOSE" at Fred's Diner
Greed, glowing lips and goose-induced fatalities are three sure signs that Compton & Bennett are home for the holidays.
The first three Thursdays in December (Dec. 5, 12 & 19; dinner at 6, show at 7:30) find them at Fred's Diner for a Christmas dinner show.
"Grandma's Christmas Goose" is a tribute to the excess, duress and unfulfilled desires that simmer within us all at this time of year. Rick and Betsy even suggest donated organs as stocking stuffers!
Dinner and show is $39.95 plus drinks, tax and tips. Limited show-only tickets for each performance ($15 each). For reservations, leave a message at 239-431-7928, or email
ComptonAndBennett@aol.com
. Confirmation will follow.
WHERE: Fred's Diner, 2700 Immokalee Road in the Jason's Deli Shopping Center
HOW MUCH: $39.95 plus tax, tip and drinks for a three-course dinner and the show.
"MY THREE ANGELS"
Florida Repertory Theatre
In "My Three Angels" it is Christmas Eve in the tropics — where it's 105 degrees in the shade — and things are not going well for Felix Ducotel and his family.
Worse, the roof is leaking! Three hardened criminals descend from above (where they were working on the leaky roof) and take matters into their own hands. Using their brilliant criminal minds, these three unlikely angels patch up more than the roof!
"My Three Angels" runs Dec. 6-22. Regular performances are Tues. – Sat. at 8 p.m., with 2 p.m. matinees on Wed., Sun., and selected Saturdays.
For tickets ($40 & $45), call 239-332-4488 and floridarep.org.
"THE NUTCRACKER GOES POP!"
Naples Player KidzAct students
KidzAct, the youth theatre program of The Naples Players, will present The Nutcracker Goes Pop! December 4-21 in the Tobye Studio at Sugden Community Theatre.
More than 100 students will sing and dance their way through a modern song and dance version of the beloved classic.
Performances are at 5 p.m. Thursdays and Fridays, 2 p.m. on Saturdays and 6 p.m. on Sundays. Tickets are $15 for adults and $10 for students 21 and under. Call 239-263-7990 or come by the Naples Players box office.
"Away in the Basement: A Church Basement
Ladies Christmas" playing through Dec. 25.
AWAY IN THE BASEMENT: A CHURCH BASEMENT LADIES CHRISTMAS
The Off Broadway Palm Theatre presents "Away in the Basement: A Church Basement Ladies Christmas" playing through Dec. 25.
Those charming Church Basement Ladies are back and serving it up again with an all-new holiday show.
This time the ladies are in the midst of holiday preparations and planning the Sunday School's Christmas Program. Performances are Tuesday - Sunday evenings with selected matinées.
Ticket prices range from $28 to $49. Call (239) 278-4422 or
BroadwayPalm.com
.
SWINGIN' CHRISTMAS at Broadway Palm
Swing into the holidays as Broadway Palm brings you a musical sure to get you into the spirit of the season. "Swingin' Christmas" runs Nov. 28 - Dec. 25.
You'll be entertained with beautiful singing, breathtaking dancing, gorgeous costumes and rib-tickling fun that's perfect entertainment for the entire family! You'll hear classics such as Santa Claus is Comin' to Town, Baby It's Cold Outside, Jingle Bell Rock, O Holy Night and more! Ticket prices range from $35 to $55. Call (239) 278-4422 or
BroadwayPalm.com
.
JACOB MARLEY'S CHRISTMAS CAROL
Gulfshore Playhouse
In December, bring the whole family for Jacob Marley's Christmas Carol by Tom Mula. Celebrate your holidays with us with this funny and deeply moving story, told with daring theatricality and warmth by Artistic Associate Cody Nickell who plays all 18 roles.
This heartfelt reimagining of Dickens' classic tale of redemption invites you into the heroic behind-the-scenes efforts of Jacob Marley as he attempts to save Scrooge's soul, and in the process, his own. "Jacob Marley's Christmas Carol" runs Dec. 6-22. For tickets, call 1-866-811-4111 or
gulfshoreplayhouse.org
.
THREE WISE MEN & A BABY!
The Island Theater Company presents "Three Wise Men & a Baby" as part of the Christmas Island Style festivities.
"Three Wise Men & a Baby" features the usual cast of characters along with all the traditional Christmas songs and a few new ones. Based on "their" story the Wise Men search for the meaning of Christmas and the "perfect" gift. Join the Marco Island community from Dec. 5-8 in what has become an annual holiday event.
All shows are free. Reserve tickets online at
theateronmarco.com
or call 239-394-0080.
A CHRISTMAS CAROL
Laboratory Theater of Florida
Revisit the Charles Dickens classic, directly from the source. This is Dickens' own special version, created for his own public readings. Six shows only, Dec. 13-15 and 19-21. $22
Buy tickets online:
http://www.brownpapertickets.com/event/391650
DASHING THROUGH THE SNOW
Firehouse Community Theatre in LaBelle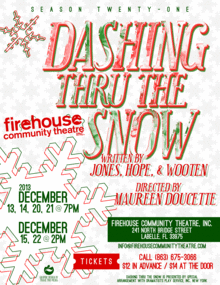 The play takes place in the Snowflake Inn in Tinsel, Texas where it's Christmas 365 days a year. It's four days before Christmas and a parade of eccentric guests arrive at the Snowflake Inn and deck the halls with holiday hilarity.
Trina, the harried yet upbeat innkeeper of this B&B, has more than she can handle coping with these nuttier-than-a-fruitcake lodgers. You'll swear this family-friendly Jones/Hope/Wooten Christmas comedy is more fun than a joyride in a one-horse open sleigh.
Tickets $12 in advance, $14 at the door
Showtimes are 7 p.m. Dec. 13, 14, 20 & 21; 2 p.m. matinée on Dec. 15 & 22
Buy tickets online:
http://www.brownpapertickets.com/event/425889
THE SPECTACULAR SPECTACULAR HOLIDAY SPECTACULAR
BIG ARTS Herb Strauss Theater
Bobby Logue and John Ramsey craft this original musical production. Perfect for sharing with family, friends and loved ones, the fun-filled holiday celebration transforms the stage into a glistening winter wonderland!
The theater will be decked out for the season and all of the on-stage talent shines like never before in a breathtaking new holiday show. There is no better place to be this holiday!
"Holiday Spectacular" runs Dec. 19-31. For tickets ($35), call the BIG ARTS Marks Box Office at 239-395-0900, the Herb Strauss Theater Box Office at (239) 472-6862 and at BIG ARTS, 900 Dunlop Road, Sanibel or purchase online at
BIGARTS.org
.
Buy tickets here:
http://www.bigarts.org/theatre.php
THE SANTALAND DIARIES
BACK FOR A FIFTH YEAR OF MISCHIEF!
Florida Repertory Theatre
Starring Florida Rep regular, Jason Parrish, "The Santaland Diaries" follows the outrageous exploits of an unemployed writer who desperately takes a job as a Macy's Elf and exposes the underside of the Christmas season.
Written by bestselling humorist and NPR and New Yorker contributor, David Sedaris, "The Santaland Diaries" is a hilariously funny and bitingly honest portrait of the Christmas season that Sedaris spent working as an Elf.
"The Santaland Diaries" runs Dec. 18-29. All tickets are $25. Call 239-332-4488 or
floridarep.org
.
FROSTY SWAMP STOMP
Ghostbird Theatre Company
Ghostbird Theatre Company celebrates the holidays with a cabaret and soiree at 8 p.m. Dec. 21 at the Sidney & Berne Davis Art Center.
There will be music, entertainment, food, a cash bar and a silent auction. Tickets are $25. Pearlie Mae and the Crawdaddy Boys (the band from "Woyzeck") will make a return engagement.
Buy tickets:
https://www.vendini.com/ticket-software.html?w=b3dc8b65e2fb56788dedc1c7dbc81786&t=tix