GRANNY'S GOT A GOOSE - AND IT SURE IS COOKED!
Greed, glowing lips and goose-induced fatalities are three sure signs that Compton & Bennett are home for the holidays. Catch them in "Grandma's Christmas Goose," playing Dec. 5, 12 and 19 at Fred's Diner. "Grandma's Christmas Goose" is a tribute to the excess, duress and unfulfilled desires that simmer within us all at this time of year. Rick and Betsy even suggest donated organs as stocking stuffers! Dinner and show is $39.95 (plus tax, tip and drinks). Limited show-only tickets are available ($15 each). For reservations, leave a message at 239-431-7928, or email
ComptonAndBennett@aol.com
. Fred's Diner is located at 2700 Immokalee Road in the Jason's Deli Shopping Center.
A WHOLE NEW CHRISTMAS CAROL
Cody Nickell stars in the Gulfshore Playhouse production of "Jacob Marley's Christmas Carol," an alternate take on the Dickens Classic. The show runs at 8 p.m. through Dec. 22 at the Norris Center in downtown Naples, with 3 p.m. matinées on Dec. 8, 15, 21 & 22. Tickets are at $33-$45. Call 866-811-4111 or
gulfshoreplayhouse.org
. (
read the preview
)
ANGELS AND CONVICTS AT CHRISTMAS
Florida Rep opens "My Three Angels" on Dec. 6. Three convicts in the tropics, spying on a family with too many problems. It was an old
Humphrey Bogart film, 1955's "We're No Angels." "My Three Angels" opens in previews Dec. 3 and runs through Dec. 22. Tickets are $40 & $45. Call 239-332-4488 or
floridarep.org
.
THE SANTALAND DIARIES
Starring Florida Rep regular, Jason Parrish, "The Santaland Diaries" follows the outrageous exploits of an unemployed writer who desperately takes a job as a Macy's Elf and exposes the underside of the Christmas season. Written by bestselling humorist and NPR and New Yorker contributor, David Sedaris, "The Santaland Diaries" is a hilariously funny and bitingly honest portrait of the Christmas season that Sedaris spent working as an Elf. "The Santaland Diaries" runs Dec. 18-29. All tickets are $25. Call 239-332-4488 or
floridarep.org
.
WHAT DO YOU GET THE GUY WHO'S THE REASON FOR THE SEASON?
The Island Theater Company
presents "Three Wise Men and a Baby"
from Dec. 5-8. All four shows will be free; the production is sponsored by APM Custom Homes as their Christmas gift to the community. "Three Wise Men and a Baby," a humorous, musical twist on the Nativity aimed at children, features many local youths and asks "What do you give someone whose birthday is the very reason for the season?" "Three Wise Men and a Baby" plays in the Rose History Auditorium at the Marco Island Historical Society. Showtimes are 7:30 p.m. Thursday and Friday and 2:30 p.m. Saturday and Sunday. Doors open 1/2 hour before showtime.
WILL RALPHIE GET THAT RED RYDER?
The Marco Players Children's Theater presents "A Christmas Story" Dec. 20-22. Yep, it's little Ralphie Parker and his quest for a genuine Red Ryder BB under the tree. Showtimes are 7 p.m. Friday, Dec. 20 and Saturday, Dec. 21 with a 3 p.m. matinée on Sunday, Dec. 22. Tickets are $10 for children, $20 for adults. Call (239) 642-7270 or themarcoplayers.com.
WRITE A PLAY IN 24 HOURS
The Lab Theater presents its second 24-hour Playwriting Project Saturday. Playwrights get a theme and a few required lines Friday night. They've got 18 hours to write a ten-minute play - and they won't meet the actors until noon Saturday! The curtain goes up at 8 p.m. Saturday, Dec. 7. Get tickets ($12) at
laboratorytheaterflorida.com
or at the door. Seating is limited.
DASHING THROUGH THE SNOW TO LABELLE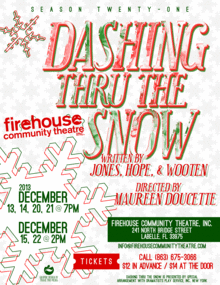 The play takes place in the Snowflake Inn in Tinsel, Texas where it's Christmas 365 days a year. It's four days before Christmas and a parade of eccentric guests arrive at the Snowflake Inn and deck the halls with holiday hilarity.
Trina, the harried yet upbeat innkeeper of this B&B, has more than she can handle coping with these nuttier-than-a-fruitcake lodgers. You'll swear this family-friendly Jones/Hope/Wooten Christmas comedy is more fun than a joyride in a one-horse open sleigh.
Tickets $12 in advance, $14 at the door
Showtimes are 7 p.m. Dec. 13, 14, 20 & 21; 2 p.m. matinée on Dec. 15 & 22
Buy tickets online:
http://www.brownpapertickets.com/event/425889
GET DOWN TO MOTOWN
The Motown Holiday Spectacular, which ""features an all-star line-up of vocalists and musicians assembled from the ranks of the Capitols and the Miracles and former members of the Temptations," plays Barbara B. Mann Performing Arts Hall at 8 p.m. Friday, Dec. 13. For tickets ($42, $53, $63) call (239) 481-4849,
bbmannpah.com
or
motownholiday.com
.
AWAY IN THE BASEMENT: A CHURCH BASEMENT LADIES CHRISTMAS
"Away in the Basement: A Church Basement Ladies Christmas" plays through Dec. 25 in the Off-Broadway Palm. This time the Church Basement Ladies are in the midst of holiday preparations and planning the Sunday School's Christmas Program. Performances are Tuesday - Sunday evenings with selected matinées. Ticket prices range from $28 to $49. Call (239) 278-4422 or
BroadwayPalm.com
. (
read the review
)
CHRISTMAS AIN'T NO THING TILL YOU GOT THIS KIND OF SWING
Broadway Palm has something for everyone here with "Swingin' Christmas," an original pastiche cooked up by Victor Legaretta. No plot, no story, but lots of Santas, elves, tinsel, dancing, singing and fun, fun, fun.
(
read the review
)
If you've ever wanted to see Tchaikovsky's "Nutcracker" as interpreted by Bob Fosse in glam 1920's Jazz Age costumes, choreographer Amy Marie McCleary has got you covered. "Swingin' Christmas" runs Tuesday through Sunday evenings with selected matinées through Dec. 25. Tickets run $22-$55, with show-only seats available for just $18. Call 239-278-4422 or
broadwaypalm.com
.
THE SPECTACULAR SPECTACULAR HOLIDAY SPECTACULAR
Bobby Logue and John Ramsey craft this original musical production. Perfect for sharing with family, friends and loved ones, the fun-filled holiday celebration transforms the stage into a glistening winter wonderland! "Holiday Spectacular" runs Dec. 19-31. For tickets ($35), call the BIG ARTS Marks Box Office at 239-395-0900, the Herb Strauss Theater Box Office at (239) 472-6862 and at BIG ARTS, 900 Dunlop Road, Sanibel or purchase online at
BIGARTS.org
. | Buy tickets here:
http://www.bigarts.org/theatre.php
DECK THE HALLS WITH GULF COAST SYMPHONY
Gulf Coast Symphony will "Deck The Halls" at Barbara B. Mann Performing Arts Hall at 7 p.m. Saturday, Dec. 7. Carols, Santa, sing-alongs and seasonal favorites from the symphony dot the program. For tickets ($22), call (239) 481-4849 or
bbmannpah.com
.
A CHRISTMAS CAROL
The Lab Theater offers "A Christmas Carol," with 8 p.m. shows on Dec. 13, 14, 19, 20 & 21 and 2 p.m. Matinées on Dec. 15 & 21. Revisit the Charles Dickens classic, directly from the source. This is Dickens' own special version, created for his own public readings. Tickets are $12 for students and children, $18.50 for seniors (Thursday performances) and $22 for adults. Buy online at
laboratorytheaterflorida.com
or at the door. Buy tickets online:
http://www.brownpapertickets.com/event/391650
LIVING CHRISTMAS TREES
First Baptist Church of Naples continues their 31-year tradition with "The Living Christmas Trees: Searching for the King." A cast of 250, including the orchestra, choir and drama ministry, make the story of Christ come alive with music and drama. Performances are 7 p.m. Dec. 6, 8, 12, 13 and 15. Additional 4 p.m. performances are Sunday, Dec. 8 and Dec. 15. Tickets are $5, $10 and $12.50; all sets are reserved. Call 888-795-1559 or
fbcn.org/lct
to purchase tickets.
"THE NUTCRACKER GOES POP!"
KidzAct, the youth theatre program of The Naples Players, will present The Nutcracker Goes Pop! December 4-21 in the Tobye Studio at Sugden Community Theatre. More than 100 students sing and dance their way through a modern song and dance version of the beloved classic. Performances are at 5 p.m. Thursdays and Fridays, 2 p.m. on Saturdays and 6 p.m. on Sundays. Tickets are $15 for adults and $10 for students 21 and under. Call 239-263-7990 or come by the Naples Players box office.